About Us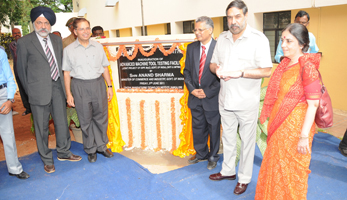 AMTTF is a 'single point window' dedicated facility to provide Testing and Development support to Engineering and Machine Tool Industries and it is equipped with the latest state-of-the-art equipment and facilities to test machine tools, accessories and other Engineering Products to establish their performance and reliability against international standards.
AMTTF is established as a joint project by Govt. of India, IMTMA and CMTI, and Registered as Society under Karnataka Govt.
Steering Committee
AMTTF is governed by a steering committee consisting of members from the Govt. of India, CMTI, and Industry Members.
The Present Members of AMTTF Steering committee:
Sri S. G. Shirgurkar, Chairman – AMTTF, MD-ACE Designers
Sri N. K. Dhand, MD-Micromatic Grinding
Sri P. Ramadas, MD-AMS Ltd
Sri Ravi Raghavan, CEO-BFW
Sri Indradev Babu, MD-UCAM
Sri H. S. Nikhila, MD-Precitec
Sri Narayanan Shankar, Siemens
Sri Neeraj Sinha, Office of PSA, Govt of India
Dr. Vandana Kumar, DIPP, Govt of India
Sri N. Sivanand, DHI, Govt of India
Sri Sanjay Chavre, DHI, Govt of India
Sri Satish Kumar, Director in Charge, CMTI